Hayley Barker
1. Would you start by telling us a few words about yourself ?
I grew up in Oregon, in the Pacific Northwest of the US. I'm a painter. I work in oils. I paint what I love, mostly landscapes, but also still lifes.
2. Could you tell us about artists but also writers, philosophers, or musicians that inspired your artistic path ?
My favorite writer these days is Rachel Kushner. Her voice is so strong, distinct. She writes about difficult situations with a deep sense of empathy. I love her book of essays, "The Hard Crowd." The titular essay made me cry with understanding, feeling my own past, the experiences of being a west coast gen X girl, reflected back to me with such nuance and wisdom.
I love music. Especially PJ Harvey. I'm kinda a superfan. Also Angel Olsen, Boygenius and Sharon Van Ettan.
As for artists, growing up I studied Charles Burchfield single-mindedly, as well as the Symbolists and Nabis. Today I admire more than I can name, but Peter Doig and Marlene Dumas come to mind.
3. How does the idea of a painting come to your mind ?
I see what I want to paint in nature. I'll visit and revisit a spot, whether it's in my neighborhood or my own small yard. It's usually a place that makes me feel enveloped, held by nature. Or with still lifes I'll get obsessed with a particular flower and find I need to make a "portrait" of it. So I will set up a hundred still lifes till I find the one that shows the character of the plant as I feel it.
4. We met you at the opening of Laguna Castle exhibition at the Night Gallery; we were impressed by the complexity of the compositions: your landscapes offer a certain density and a great richness of patterns, colors, and plants. We feel a certain ambition to convey a sense of substantiality. This way of considering the natural space is quite original in the landscapes throughout the history of American painting, which spreads more in vast clear expanses. There is a legacy of European symbolist painting in your treatment of the motif and compositions close to that of Bonnard. What do these connections mean to you?
I have never loved big expanses and have always felt safer, more at ease in landscapes that are full of life, and more intimate in scale. I think that has to do with being a woman, growing up with the feeling I've always had to look over my shoulder. I don't like the feeling of being exposed, even if that is just being under too big a sky. I prefer being nestled into a smaller green space, feeling into it piece by piece.
I have always felt a kinship with the spiritual landscapes of the Symbolists and those of Van Gogh in France. Bonnard is my artistic godmother. I understand why he painted what he painted. It was all about the everyday and color and feeling, a kind of crowded but full experience of forms and patterns.
Bonnard was a white man and had great privilege, a lush garden, and studio in the French Riviera. That said, in his heart he seems less interested in a heroic conquest of land than in the day-to-day vulnerable beauty of a quiet life. I relate to that, and want that strongly for myself, a white woman who grew up poor to working-class. I want that peace for anyone who desires it and maybe looking into my paintings can be a moment to inhabit that calm.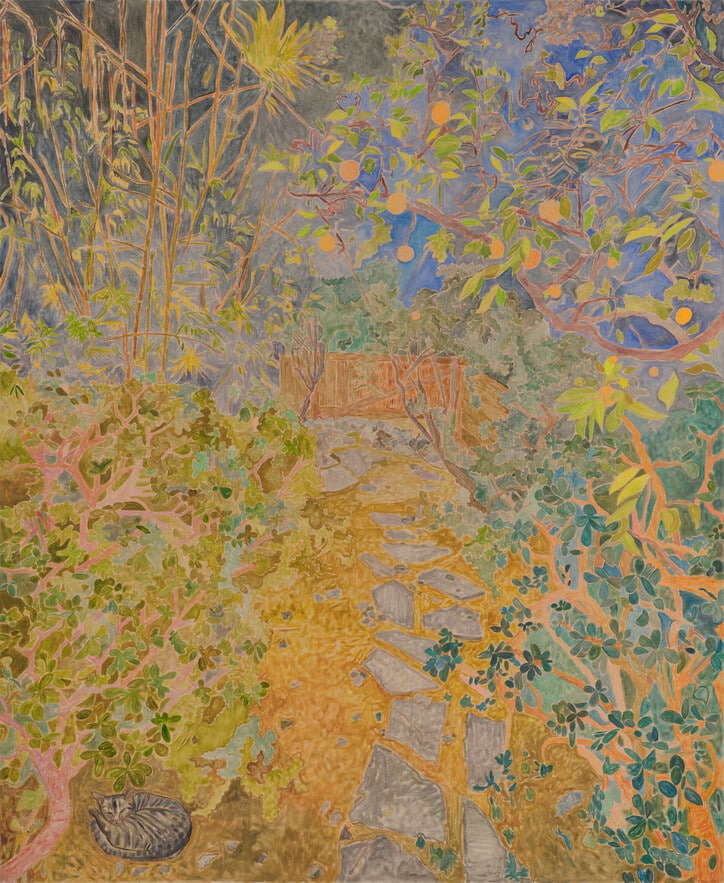 5. We often notice the motif of spiders and their webs; curvy fences consuming or partly hiding human's buildings and figures. This natural ascendancy does not seem threatening though; it seems harmonious as if a different balance was explored aesthetically in your works. Could you tell us more about these motifs and the central presence of natural elements in your artworks ?
I am an intersectional feminist witch and believe in the wisdom of the earth: her bounty and her mystery. I believe that every living thing is sacred: all are embodiments of the Goddess herself. The order of nature is sacred. All plants and spiders and creatures are wise beyond our knowing. It's really an honor to live beside and with them.
6. The chromatic richness, as well as the complex motives, could have led to an existentialist agonizing atmosphere; instead the paintings inspire an ambiguous serenity. As if a disquietude was always present but transcended by the composition's harmony and the palette's softness. We feel an indirect human presence through the presence of a flower pot, a bouquet, or other objects. Here again, human existence seems questioned through something bigger that surrounds him; how do you conceive human's existence and its place in your works ?
I am the exact opposite of an existentialist! Ha ha! I deeply believe in the existence of a great nonbinary Goddess. She is all and everything. And death, violence, destruction is a part of nature: this is a great mystery beyond my understanding.
I don't feel compelled to explore the human form at this time. I am more interested in how we humans fit into the natural world, and more specifically how we carve out little spaces to exist within and tend. Those flower pots and bouquets point to some of the more peace-loving aspects of humankind. Places where we are gentle, living in communion with the natural world. Witnessing it change through the cycles of the day, season, year.
I try to craft a painting that can be entered into, and think a lot about giving a viewer space to be. We all deserve sacred space in nature.
As for humanity, I am greatly disappointed by how we have behaved. The destruction of life on Earth, racism, homophobia, transphobia, economic inequity… It feels like more than I can bear most days. I try to hold onto hope and the possibility of change through acts of love and resistance.
There are traces of human trauma in most landscapes. We cannot escape the history of colonialism: the earth being trashed, indigenous peoples being murdered, black and brown peoples being enslaved. White supremacy and its impact on our planet is inescapable. Maybe that's the disquietude you feel in my work. I am mourning these losses and at the same time trying in my small way to bring more love and softness into my days and connections.
So with that in mind, I'm trying to create places in my paintings where humans can find some ease within the chaos of the world. Spaces we can pray or heal in.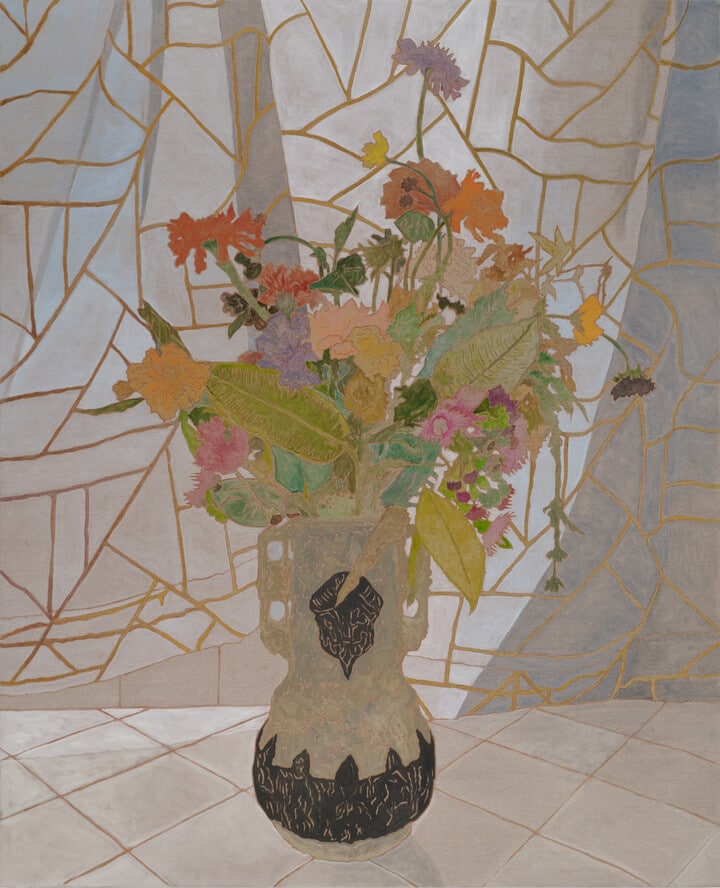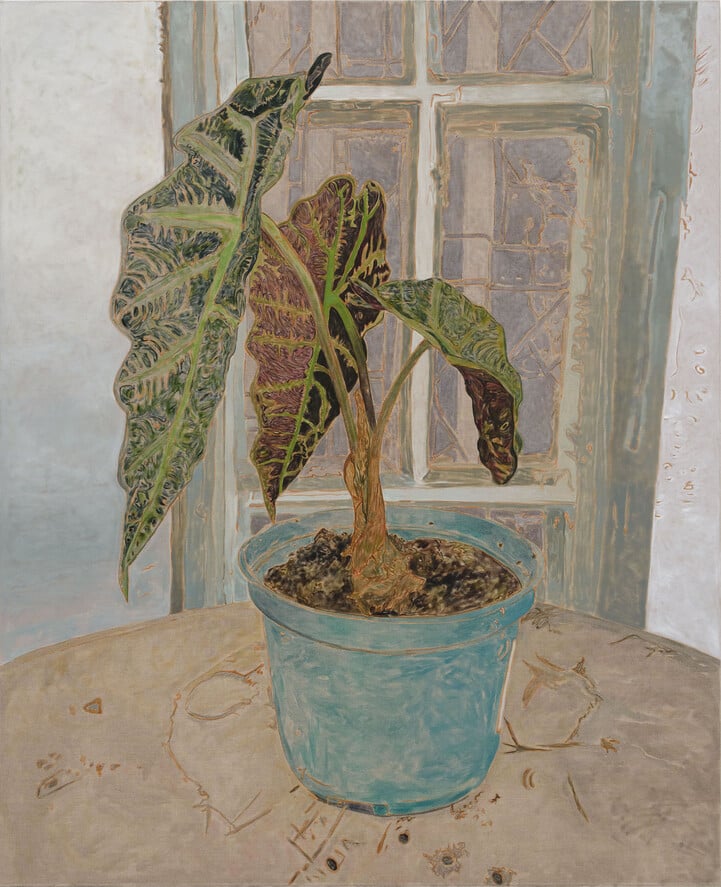 7. When we had the chance to discover your paintings, we were struck by your large areas of transparent colors. Your treatment of color, quite translucent, sometimes slightly iridescent, gives your work this ethereal and airy aspect. Would you like to tell us more about this technique?
I work with thinned down oil paints. The iridescence comes from layers on layers of color rubbed or glazed over thin colors.
8. We often find candles, crystals, pearls…. these objects create a singular atmosphere of contemplation that invites us to perceive the landscapes as a spiritual realm. The detail of the pipe often seems to metamorphose into a snake, and all these motives amplified by the colors invite us into a psychedelic vision; could we draw a parallel in your works between a sense of spirituality and an original psychedelic vision ?
I am sober and don't relate too much to psychedelia these days. But I have had many visions. And I do believe in a fluidity of form. My Goddess and angels speak to me in nature and I just try to watch and listen.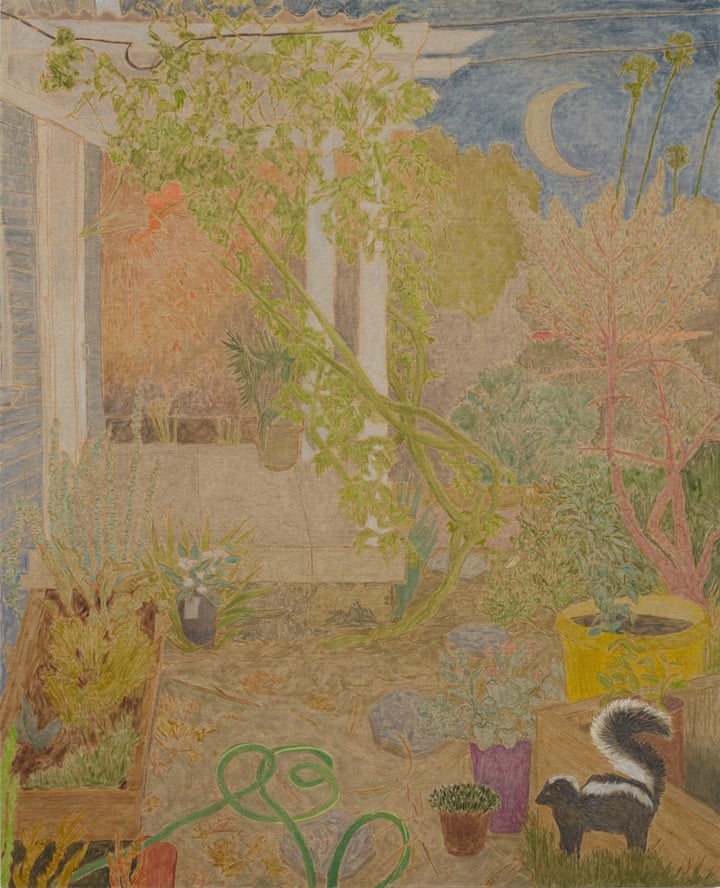 9. In this idea of recomposing a space and cultivating harmony, the garden theme seems preponderant in your work. Do you conceive your painting as your interior garden?
Interior is exterior and exterior is interior, especially in LA. These boundaries are fluid and so too I believe are the boundaries between space and solid forms, leaf and skin. My paintings are more like passages, spaces in between. Gardens are places to experiment with soft architectures of plant life and the act of gardening is a great way to learn about your environment by being with it, through long periods of observation. It feels like loving the earth when I learn to tend to the plants around me.
11. If there was one absent figure you could share a dinner with, who would it be ?
Bonnard.
12. Do you have any future or actual projects to share with us?
Stay tuned. 😉