Renata De Bonis
1. Can you introduce yourself ?
I'm Renata De Bonis, born in 1984 in São Paulo, Brazil.
I'm currently living in the outskirts of Amsterdam after spending almost the entire last decade living in multiple countries attending residencies, developing several research projects and constantly searching for God knows what. I concluded a PhD in Processes and Procedures of Contemporary Art in 2020, where I extensively researched displacement as the core of several artists practices, including my own.
I'm an artist and researcher that works mainly with painting, but I'm extremely interested in sound and have been experimenting a lot with it in the last years.
I pay attention to the not-seen, not perceived, ephemeral mundane moments that happens all the time but are extremely poetic and mediocrely special.
I dealt with anxiety my whole life and the act of painting takes me back to the present moment, helping me to focus; it's where I find comfort on my discomfort.
2. Could you tell us more about artists that inspired your artistic path ?
My research as an artist allowed me to fall in love with so many different artists, from Piero de la Francesca to Ragnar Kjartansson, from Caspar David Friedrich to Felix Gonzales Torres, from Morandi to Roni Horn, Kurt Schwitters to Wilhem Sasnal, Derek Jarman to Mathias Weisher… There are plenty. I really enjoy following an artist that feels free to work with different medias. Or on a better note, an artist that is simply free.
3. Are there writers, philosophers, or musicians that influenced you as well?
Music is central to my practice. I can't paint without music – I actually can't do anything without music. When I was on my teenage years, I found myself on the alternative, underground, DIY punk scene in São Paulo, which was in so many ways very formative to me. To list just a few: Nick Cave, Neil Young, 60's garage, a bunch of underground punk bands, Television, Wipers, Charles Bradley, Radiohead, Julia Jacklin, Townes Van Zandt, Sharon Can Etten, Tom berlin, Grouper, Beat Happening, Cassandra Jenkins, Khruangbin, DIIV, Fontaines D.C., Dry Cleaning, Darondo.
A writer,
From the top of my head, Lydia Davis.
4. How does the idea of a painting come to your mind ? / Tell us about a typical day of your work ?
I'm definitely not an artist that goes to the studio every day. To me this is actually counterproductive. I need to be out, walking, going somewhere new, cycling, reading, engaging in movement, bus, train, car. I allow myself to be extra aware of situations, corners, litter in the street, a friend's book open on top of a table waiting to be picked up again, someone else's post-it, shopping or to-do lists – I see them as poetry. I take pictures constantly and review them on a daily basis, recognizing the ones that have the potential to become interesting paintings. I normally work in groups, like an album of memories. I then decide the scale of them, and finally go to studio to start working. I start drawing on the canvas/linen, and then begin my painting.
5. The first impression that we had while discovering your works, is this omnipresence of emptiness : the houses but also the landscapes and flowers are surrounded by a very sober background; what does that emptiness imply in your vision ? / We appreciate your singular soft and subdued chromatic palette. Could you tell us more about the way you conceive your colors ?
I think I can't run from the fact that I struggle a lot with existential questions that are very melancholic, the beauty and pain that comes with the fact that we are individuals and not matter what, we're always going to be experiencing the world through our own particular experiences. All of this reflects on my work, choices of images, colors, everything. I try to work with other colors, but most of times I find best solutions to what I want to communicate with this palette and with this concept of emptiness.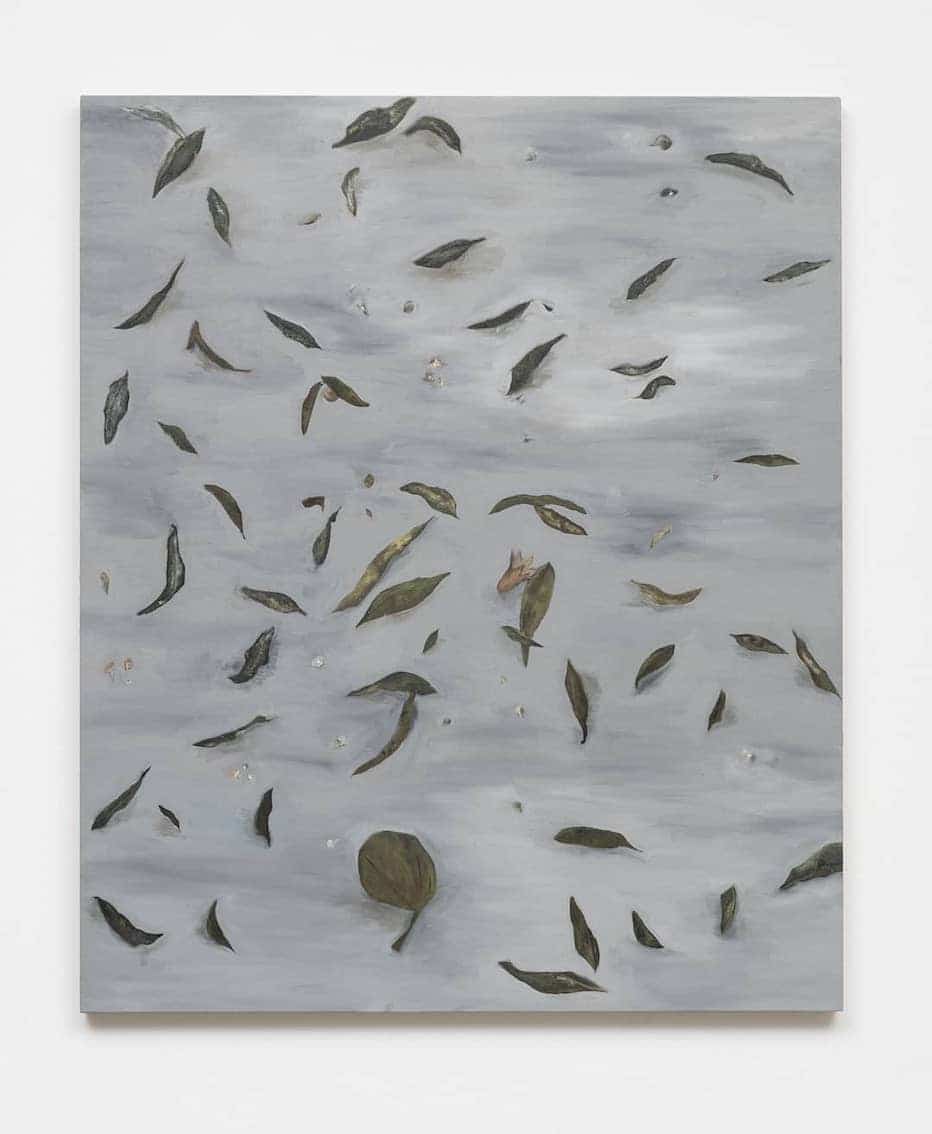 6. The depicted flowers are often almost faded; can you tell us more about your interest in these vanities?
Putting flowers in vases around the house is an act of trying to surround ourselves with the inexplicable beautiful weird 'natural' outside world, but we are actually watching something deteriorate and die in front of our eyes, which is almost sadistic. I started to pay attention on the passage of time through them and how affected the flowers daily; from there I started to draw these moments, and then paint; normally the paintings are titled after the day they're in, 3rd day, 8th day, etc.
7. The human presence is rare, and even when it's depicted, figures are often shown from the back, as if you did not want to relate the presence of specific figures. It gives their appearance a paradoxical absence. How do you perceive human's presence in your works ?
Caspar David Friedrich used to paint his human figures showing us their back, so we saw them looking at the landscape. In German language, there's a word for this, ruckenfigür, a person seen from the back contemplating a view.This was a successful tool to make the viewer identify with the depicted figure on the painting, and brought a great degree of contemplation to the work. I deeply relate to this and started experimenting, painting friends, unknown people that I photographed in the street or even from movies, taking screenshots of frames. I believe it brings a layer of silence and time suspension, maybe a bit of voyeurism as well, even not being my main intention; by portrainting someone from their back, that person can be anyone, including the viewer.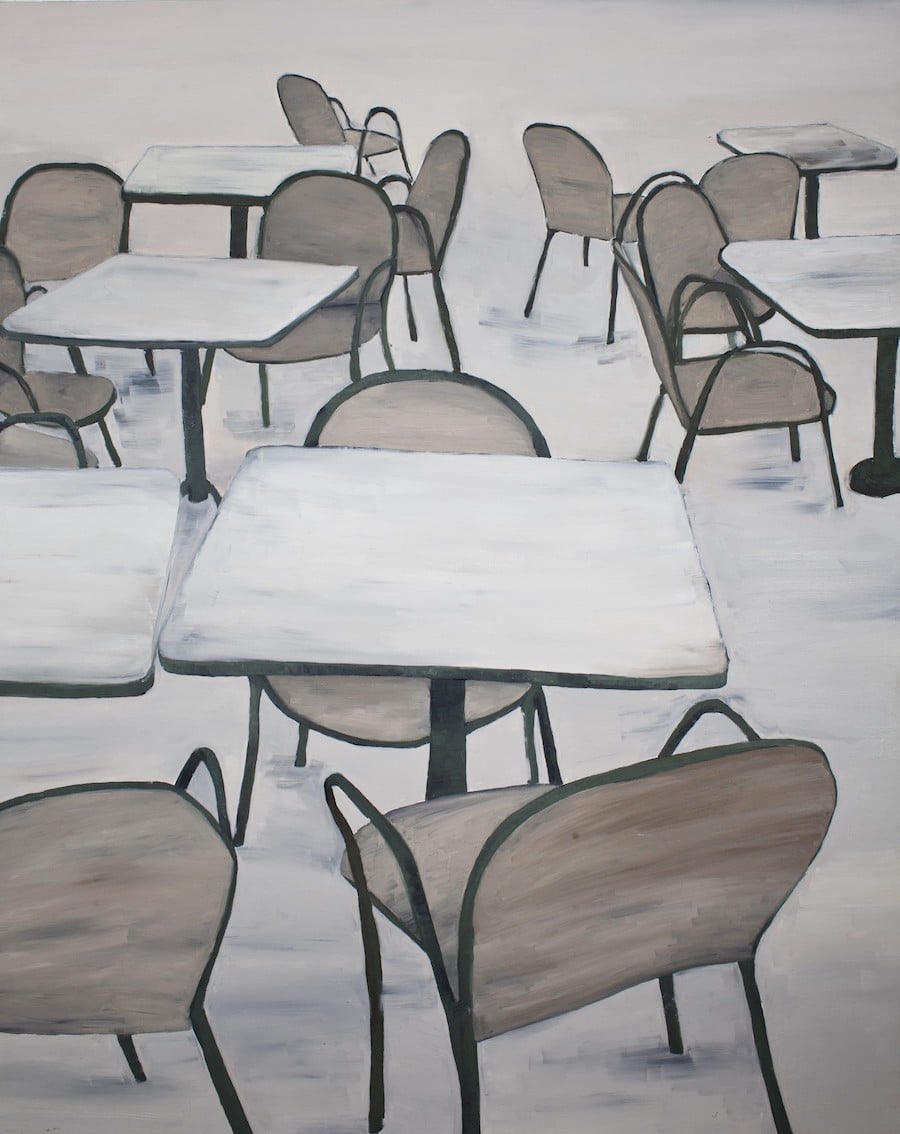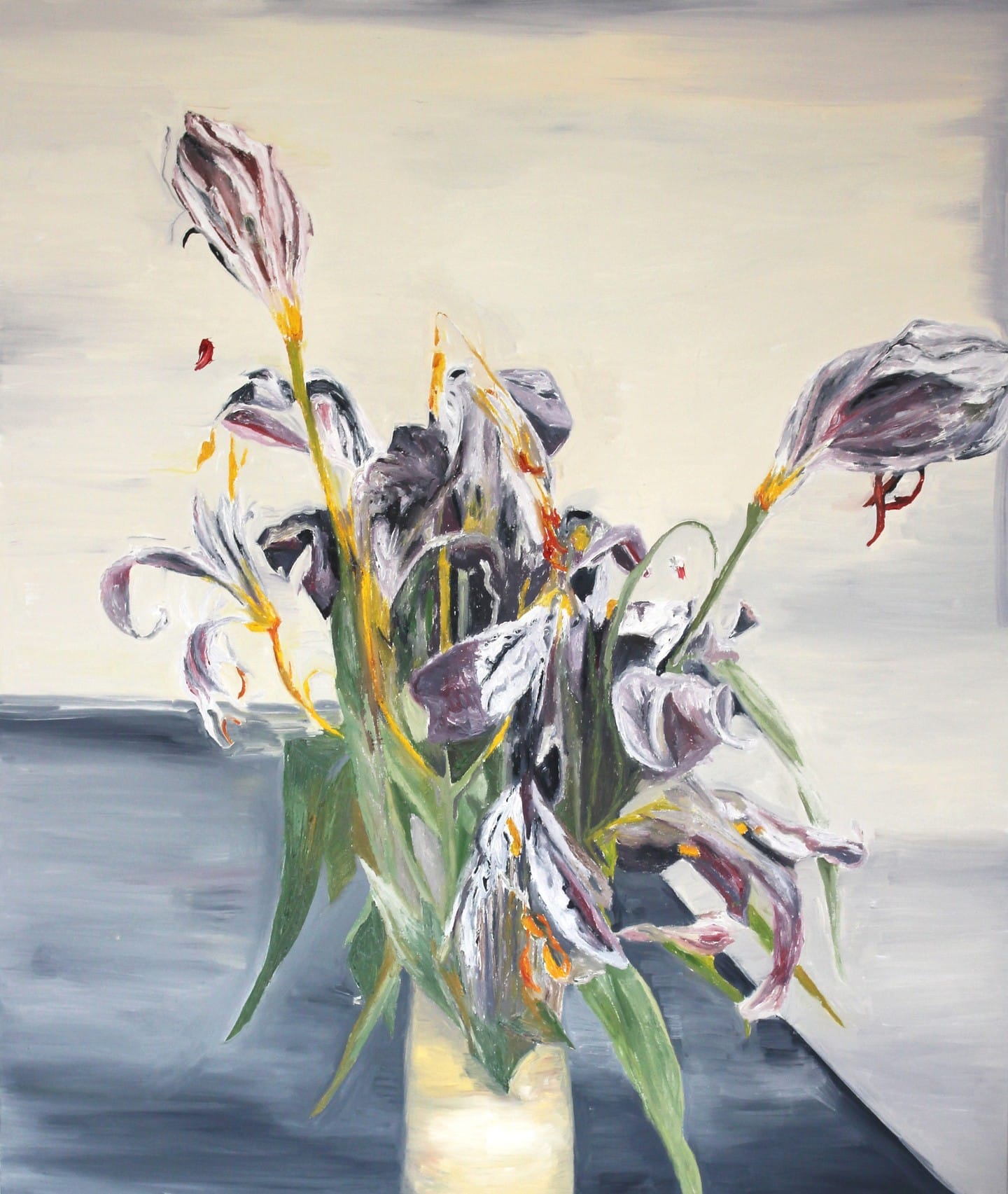 8. While studying your journey, we saw that you made research on Caspar David Friedrich's works. Could you tell us more about this influence ?
In 2009 I lived in a desert in California. My morning/evening hikes sparkled what I called 'Caspar David Friedrich' moments: an immense landscape that made me feel so small and powerless, impotent. Coyotes, snakes, tarantulas, bobcats were always around the house. Every night I watched the sunset and the moon at the same time, huge dark skies and so many stars. That experience molded me to the person that I am today and obviously reflect on my production as an artist. In 2013, I went to Iceland searching for a similar experience and it was even more overwhelming. Mountains, rocks, black sand, lava, our short, brief existence is really felt in a place like that. I ended up doing a presentation on Caspar David Friedrich at a residency, and 2 years later this residency made a partnership with a residency in Germany. They invited me to attend it; It was located in a village next to Friedrich's hometown. I started 'Sounds after Caspar David Friedrich', a project that by means of an intensive investigation, the specific sites and landscapes painted by Friedrich in the 19th century were mapped, located, and visited in order to record their respective sounds within their present contexts with professional sound recording equipment. The project proposes a contemplative reflection upon nature through sound and presence instead of through a, nowadays, saturated image-based relation.
It is simultaneously a celebration of the artist, as well as a critique of a contemporary lifestyle and its image-mediated relationship with nature and the physical world… a transposition of a critique of modernity in the context of Friedrich, to a critique of our contemporary world and its collapsing unity between humanity and nature. Finally, the work, as if evoking Caspar's discontent towards the crescent industrial developments and its consequences, critiques over the commodification of modernity through image-based products and social relations.
I presented this project in two major group shows, such as the exhibition FUTURUINS (2018) at Palazzo Fortuny in Venice, Italy, in which the work was exhibited in conjunction with the original painting by Friedrich titled The Dreamer, on loan by the collection of the Hermitage Museum in St. Petersburg, Russia, and also The in the Festival Arte Atual (2016) at Instituto Tomie Ohtake in São Paulo, Brazil.
9. Do you have any future or actual projects to share with us?
On 8th of June I'll open a solo show called Touch at L21 Gallery in Palma, Spain.
On 10th of June opens a group show called Satelitti, where I participate with a new group of paintings organized by Giorgio Galotti in Bolgheri, Italy.
Very excited with both.